Esta mañana os hemos enseñado un nuevo vídeo de Splinter Cell: Blacklist, por si no habéis tenido suficiente, ahora os revelamos la lista de logros que habrá que cumplir para ser el mejor espia del mundo.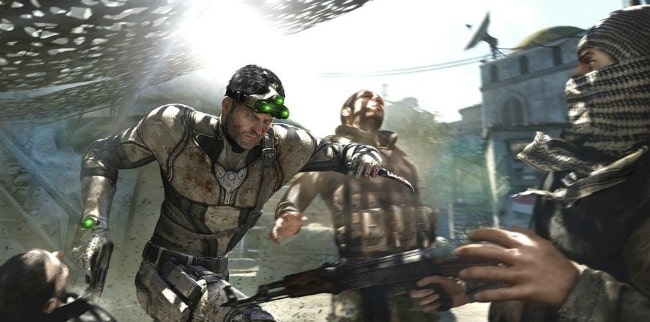 La lista que ha sido desvelada y correspondería a la versión para Xbox 360. Consta de 47 logros distintos e incluye hasta 11 objetivos secretos. Vamos, un poco de todo para todo tipo de jugadores. Para los que les gusta pasarse el juego entero y para los que solamente lo juegan una vez.
Aquí os dejamos la larga lista de logros, en inglés, justo debajo hemos dejado la pequeña explicación de lo que habrá que hacer:
4th Echelon Status Confirmed- 30G
Completar la lista negra
4th Echelon Commendation – 60G
Al completar todo el juego en 'modo realista'
4th Echelon Officer – 100G
Completar todas las misiones en 'modo perfeccionista'
HVTs Secured – 10G
Conseguir 20 objetivos de alto valor
Intel Acquired – 10G
Conseguir 24 unidades 'Intel'
Data Security – 10G
Hackear 23 ordenadores de la lista negra
Upgraded Gear Accessed – 10G
Mejorar al 100% un arma
C&C Optimized – 20G
C&C totalmente actualizado
Tactical Style: Ghost – 25G
Utilizar estrategia ghost
Tactical Style: Panther – 25G
Utilizar estrategia panter
Tactical Style: Assault – 25G
Utilizar estrategia asalto
Evidence Concealed – 10G
Meter 5 cuerpos en el contenedor
No Kill Option Engaged – 50G
completar el modo campaña sin matar a nadie
Distraction Tactician – 10G
atraer un enemigo con el sonido y eliminarlo sigilosamente
Tri-Rotor Functionality – 10G
desactivar la seguridad utilizando Tri-Rotor
Enhanced Lethality Demonstrated – 10G
marca y ejecuta
Hostile Shield Secured – 10
robar el escudo blindado a un militar
Hostages Secured – 10G
algo así, como mantener a salvo a los rehenes
Mission Footprint Zero – 10G
completar una misión sin ser detectado
Combined Op Successful – 10G
completar una misión en modo cooperativo con un compañero
Infiltration Operator – 30G
completar todas las misiones especifica de infiltración
Extraction Operator- 30G
completar todas las misiones de Charlie Cole's
Combined Operator – 30G
completar un conjunto de misiones especificas
Elite Killing Team – 15G
ejecutar dos enemigos con casco
Lead Interrogator – 10G
ganar una misión cooperativa en Voron
ShadowNet Online – 5G
logearse en ShadowNet por primera vez
Officer of the Day – 15G
completar retos diarios
Seven Day Duty Shift – 30G
completar el reto de 'Spies VS Mercs'
Support Ops – 15G
asistir a 10 compañeros durante 'Spies vs Mercs'
Lethal Versatility – 100G
ganar en 'Spies vs Mercs'
Firearm Accessed – 15G
desbloquear una 'Merc's Light Machine Gun'
Personal Kit – 15G
conseguir un kit de Espia o Merc
Trusted Agent – 50G
conseguir rango Rank 10 en 'Spies vs Mercs'
Rated Hacker – 25G
hackear un terminal en Spies vs Mercs SvM Blacklist or SvM Classic match
Rated Intel Courier – 15G
llevar a casa un intel durante el VS de 'Spies vs Mercs'
Rated Aggressor – 15G
capturar un punto de control en 'Spies vs Mercs Uplink Con'
A la espera quedamos de que sea traducida al español, ya que muchos nos suenan un tanto raro.
Vía vg247